ENGINE
2 cylinders, horizontally opposed, air cooled
Bore 62 mm Stroke 62 mm Cubic capacity 375 cc
French Fiscal horsepower : 2 CV
Compression ratio 6.2 : 1
Max power 9 bhp @ 3 500 rpm
Max torque 2 m.kg @ 2 000 rpm
Carburettor Solex 22 ZACI
Eight blade cooling fan
TRANSMISSION
Front wheel drive via single dry plate clutch and four speed gearbox
CHASSIS and SUSPENSION
Chassis comprising two longitudinal longerons to which are attached
1 suspension arms
2 Tie rods
3 Suspension cylinder
4 Inertia damper
5 Transverse cross member (not an anti roll bar)
6 Friction dampers
Below cutaway of friction damper (frotteur)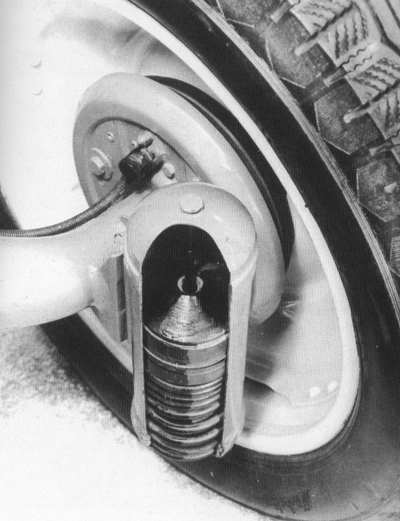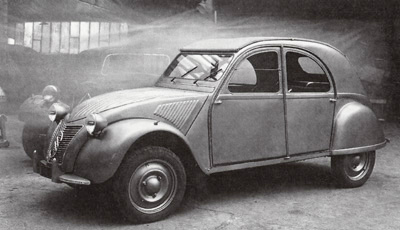 BODYWORK
Bonnet with corrugations
No indicators
One stop lamp
One tail lamp
Grille logo comprising chevrons inside an oval
Available in metallic grey only
Canvas roof extends to rear bumper (no boot lid) - a metal lid was not fitted until 1958.
ELECTRICAL SYSTEM
6 volts, 50 Ah battery, Dynamo
Early French market cars were fitted with only a single tail and stop lamp which was all that the law required.
The first few hundred production models had the headlamps painted black.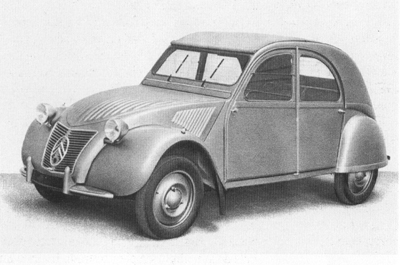 DIMENSIONS
Length 3.78 m
Width 1.48 m
Height 1.60 m
Wheelbase 2.40 m
Track (front and rear) 1.26 m
Fuel tank capacity 20 litres
Engine oil 2 litres
Gearbox oil 1 litre
Unladen weight 495 kg
Above this publicity photograph demonstrates that the 2CV will seat four adults in comfort.
It also demonstrates that the company intended targeting women even though the stated intention was to mobilise (mainly male) rural dwellers as does the picture below.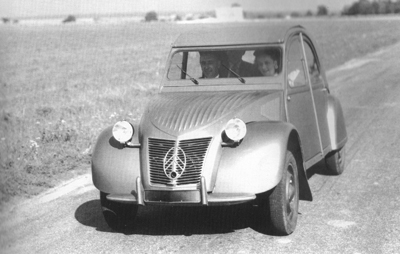 LEFT

Compteur : speedometer

Essuie-Glace : wipers

Dťmarreur : starter

Starter : choke

Contact : ignition




Avertisseurs et …clairage : horn and lights

Rťglage des phares : headlamp beam height adjustment