NEW CITROňN JUMPY/DISPATCH*: FOR EVERYDAY HEROES
* In some markets, the vehicle is called Dispatch

Launched in 1995 and produced in nearly 600,000 units, the CitroŽn Jumpy is stepping into a new era and making a true generational leap with the New CitroŽn Jumpy. Harnessing over 80 years' experience in light commercial vehicles, CitroŽn provides solutions adapted to all motoring uses. An essential partner for professionals, the New Jumpy was designed with efficiency and user-friendliness in mind, for easier day-to-day use and greater safety.
The development of the New CitroŽn Jumpy benefited from the finest in CitroŽn expertise. That know-how informs one of the broadest LCV ranges on the market with four complementary and thoroughly distinct models: Nemo, Berlingo, New Jumpy and Jumper.
With its new modular platform, the new-generation Jumpy features an optimised architecture for more practicality, comfort and safety. It boasts latest-generation technologies in driving aids and engines, making it the ideal partner of "Everyday heroes".
Addressing a wide public of professionals (including self-employed tradespeople, construction, delivery and service companies and local authorities) it is available in van, combi, double cab and flatbed versions. It comes in 3 lengths (XS: 4.60 m, M: 4.95 m and XL: 5.30 m) so that each professional can choose their vehicle in line with their needs and activity.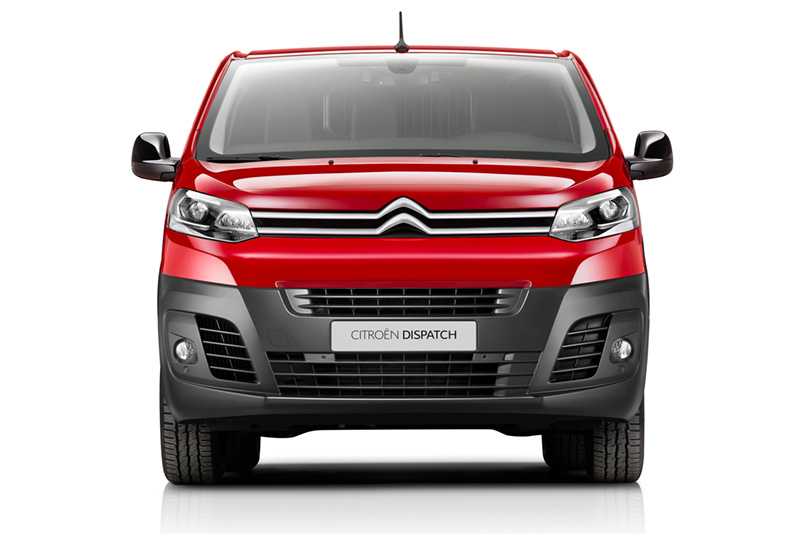 The New CitroŽn Jumpy features:
flowing and modern design. Characterful styling, both energetic and reassuring;

an efficient architecture adapted to all needs for greater functionality, practicality and user-friendliness. The Jumpy's modular platform based on the EMP2 offers up to 1,400 kg in payload and 6.6 m3 of load volume, and can tow up to 2.5 tonnes;

3 lengths available with, as well as the core-market 4.95 m and 5.30 m versions, an all-new version of just 4.60 m, compact and practical alike. As with the two other lengths M and XL, the XS version has a payload of up to 1,400 kg and in combi guise can transport up to nine people;

a height of just 1.90 m for the XS and M versions, making for easy underground car park access, which is not always true of vehicles in this segment;

unrivalled modularity in the segment with the Moduwork. To make everyday life easier, the side passenger seat can be lifted up against the partition to provide extra space with a flat floor and the large flap in the partition, offering a useful length of up to 4 m. The New Jumpy's adjustable writing panel and tablet and smartphone supports turn it into a real mobile office;

hands-free sliding side doors. New to the segment, these opening panels make loading and unloading easier when the driver's hands are full with equipment, packages or goods;

comfort for improved physical and mental well-being, with a welcoming interior, a high-set driving position, and a host of storage compartments. Well-being is heightened through top-flight acoustic treatment and optimal ride comfort;

technologies that make life easier including Top Rear Vision for enhanced visibility when manoeuvring, colour head-up display and CITROňN Connect Nav, with voice-operated connected 3D navigation and a touchscreen;

technologies for greater safety, including the following functions: adaptive cruise control and speed limiter, road-sign reading and recommendations, Driver Attention Alert and Active Safety Brake;

best-in-class fuel consumption and CO2 emissions (BlueHDi 115 S&S 6-speed manual: 5.1 l/100 km and 133 g/km of CO2) and controlled running costs thanks to latest-generation 1.6 l and 2.0 l diesel engines ranging from 95 bhp (210 Nm) with a manual gearbox to 180 bhp (400 Nm) with an EAT6 automatic gearbox;

numerous coachbuilder conversion possibilities to meet the needs of all activity sectors, including a 4x4 conversion designed and installed by the specialist firm Automobiles Dangel.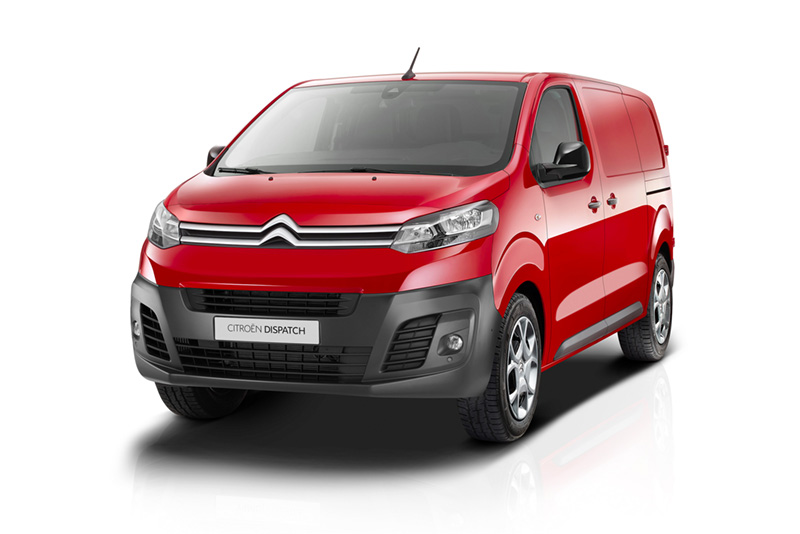 ENERGETIC CHARACTER
The design of the New CitroŽn Jumpy is inpired by passenger cars and the world of SUVs. The new model possesses flowing, aggression-free styling conveying a sense of assurance and robustness.
The front of the vehicle consists of a short horizontally-styled bonnet underscored by broad, high-set lamp units, denoting a commanding view of the road.
The Brand signature is positioned on the grill, extending from both sides of the chevrons to the inside of the lamps. The front features a broad reassuring bumper with built-in black air intakes, contrasting and emphasising the robust styling of the new model.
The prestigious styling can be enhanced with the Look Pack. With this option, professionals looking to further boost the brand image of their company through their New Jumpy can benefit from:
body-coloured front and rear bumpers, door handles, rearview mirror housings and side mouldings,

a chrome grille,

a front light signature with vertical LED daytime running lights and fog lamps.
From the side, with its wide sliding side door, the New Jumpy promises a capacious interior and suggests the broad range of conversion possibilities available.
Firmly in step with its times with its robust styling rooted in functionality and practicality, it is naturally positioned as an ideal partner for professionals.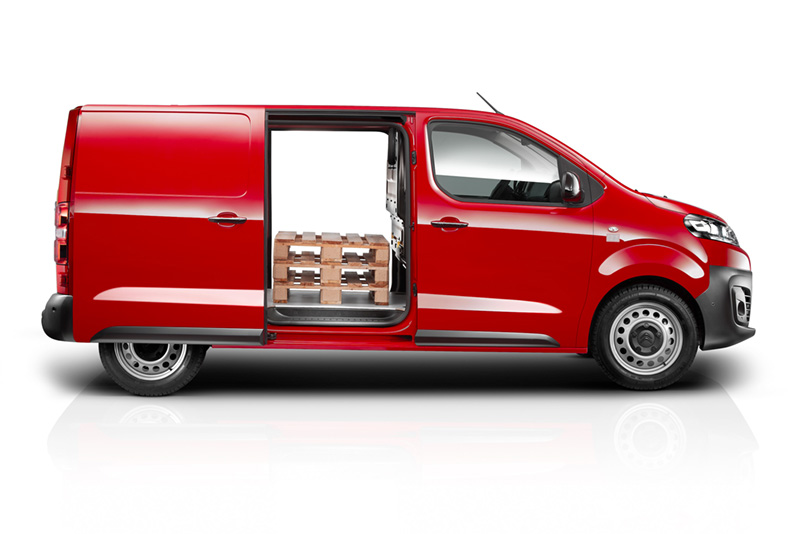 EFFICIENT NEW MODULAR PLATFORM
The New CitroŽn Jumpy is built on a latest-generation modular platform based on the EMP2 and designed specifically for the new model. The platform has a reinforced structure with special new front and rear axles. It supports a payload of up to 1,400 kg and can tow up to 2.5 tonnes.
The modular design is reflected in two wheelbases (2.92 m and 3.27 m) as well as two rear overhangs (0.80 m and 1.15 m). These can be combined to propose 3 lengths: XS at 4.60 m (a first in the segment) with the short wheelbase, and M at 4.95 m and XL at 5.30 m with the long wheelbase.
The new platform presents the possibility of compact exterior dimensions while boasting load volumes of up to 6.6 m3.
That same compact design applies to the height of the New Jumpy. At just 1.90 m, it is ideal for all situations and locations, including underground car parks in city centres, residence and shopping malls. This feature helps professionals save time and gain in efficiency as it enables them to get to their customers as quickly as possible.
Main van dimensions

Body Styles

Dimensions

XS

M

XL

Length

4600 mm

4950 mm

5300 mm

Height

1900 mm

1900 mm

1940 mm

Wheelbase

Short

Long

Long

Rear overhang

Short

Short

Long

Maximum effective floor length

3320 mm

3670 mm

4020 mm

Load width between wheel arches

1260 mm

1260 mm

1260 mm

Maximum effective volume

5.1 cu. m

5.8 cu. m

6.6 cu. m

Maximum payload

1400 kg

1400 kg

1400 kg

Turning circle

1130 mm

1240 mm

1240 mm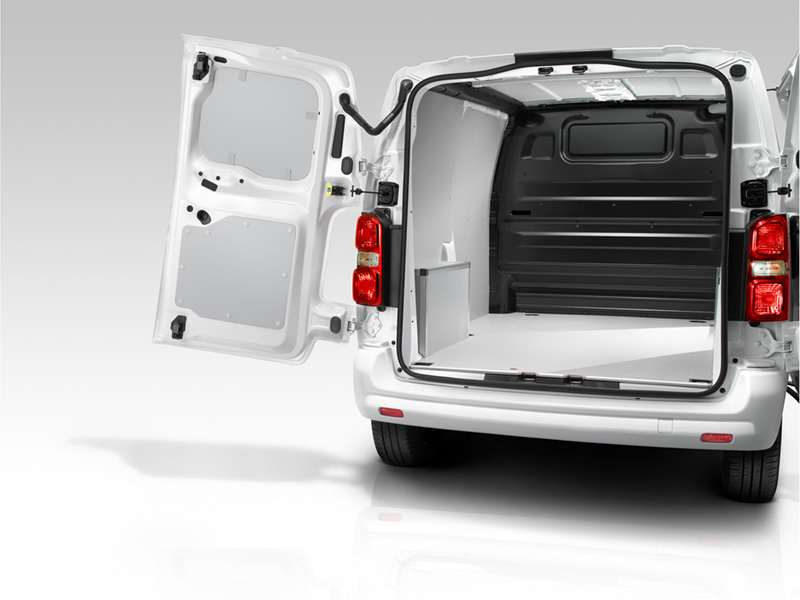 A COMPLETE RANGE
The New Jumpy is available in a complete range to meet the needs of all customers in line with their business:
vans: available in three lengths, the vans mainly target professionals requiring large load volumes (from 4.6 to

6.6 m3) With three trim levels, Comfort, Club and Business, they are adapted to all fields of activity.double cabs: available in M and XL lengths, the double cab models are intended for professionals who need to combine passenger transport (six maximum) with a separate load area of up to 5.5 m3 (with the partition folded) and an LCV registration certificate. Two double cab families are on offer: versions with folding partitions and benches, for increasing the load area by 1.5 m3 with the rear seats not in use, and versions with fixed partitions.

flatbed: available in the M length of 4.95 m, this version provides a basis for conversions, for example into refrigerated vehicles and "high volume" versions, as well as all other conversion variants.

combi: available in three lengths, the combi model from the XS version up can accommodate as many as nine people. It mainly addresses the transport of people by organisations, leisure centres and local authorities requiring the maximum number of seats and volume.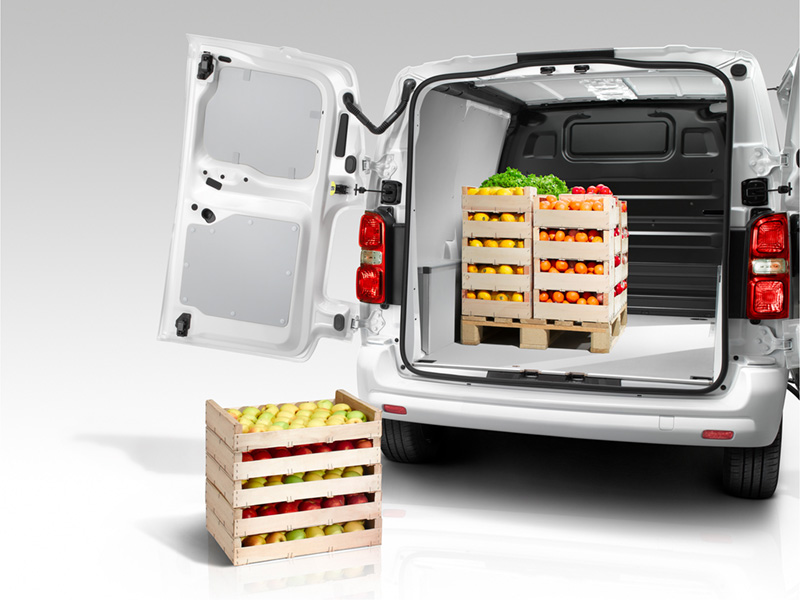 | | |
| --- | --- |
| | © 2016 PSA Groupe/CitroŽnŽt |