The CitroŽn C6 has arrived. The latest addition to a historic line of great CitroŽns, with a stunning look in keeping with the Marque's reputation for style, the C6 takes the grand tourer concept and incorporates the latest cutting-edge technology.
The C6 adds the crowning touch to a wider and more complete CitroŽn range, extending from the C1 to the C8. The presence, styling and executive features of the C6 clearly identify it as an executive model. It is a car inspired by great CitroŽns of the past – the DS, CX and SM – whose design and innovative technologies have helped the Marque to establish a strong heritage in large cars.
The C6 takes the essential cues of executive saloons – elegance, sophistication and on-the-road presence – and combines them with the Marque's own key values. Derived from classic CitroŽns and continuously updated, these values are expressed through avant-garde technology, based on styling and the pursuit of comfort, and through engines that place the emphasis on driveability rather than sheer power.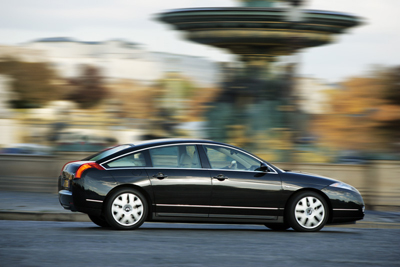 Through its fluid and dynamic styling, the C6 is a highly distinctive car. Depending on the angle from which it is viewed, its unique styling brings to mind an elegant coupť or an executive limousine.
The exceptional on-board comfort takes the driver and passengers into a world of opulence. The roomy, spacious passenger compartment uses premium materials.
The driver's position, in particular, gives new meaning to the concept of ergonomics. Driving information is clear and precise. The read-out can also be shared with passengers by tilting the central screen located in the top part of the dashboard.
Key safety features include a height-adjustable head-up display, allowing the driver to concentrate on the road ahead, a lane departure warning system (LDWS) and xenon dual-function directional headlamps.
Once again, CitroŽn has proved its ability to achieve continuous innovation.
The C6 is a global concept, a balance of unique design lines and advanced technology creating an impression of advanced safety and – of course - comfort.
The C6 combines high levels of passive safety for passengers (active headrests and nine airbags amongst other features) and pedestrians (active bonnet system) with impeccable road manners based on new running gear with active suspension and electronically controlled springing and damping.
The C6 features double wishbone suspension and a linked hub carrier at the front, with a multi-link system at the rear. This set-up gives it real agility, as well as making full use of the V6 petrol and diesel engines available with the 6-speed automatic gearbox.
As a result, the C6 combines precise wheel guidance with impeccable roadholding and perfect handling, whatever the situation.
The C6 is produced at the Rennes site, where dedicated quality teams inspect each vehicle individually.