2CV Citroën
Ses dérivés, Baby Brousse, Dalat, FAF et autres
By Marie & Etienne Christian
Publshed 2014
ISBN 978-2-910434-39-7
€32
Published by:

L'Autodrome Editions
48-50 Boulevard Sénard
92210 Saint Cloud
France
Language - French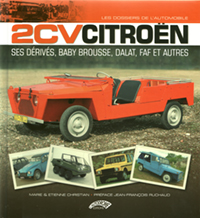 An excellent and well-researched book containing many hitherto unpublished photographs, original publicity material and detailed information about these lesser known variants of the 2CV.
Even if you don't speak French, the book is worth purchasing for the wonderful pictures.
Strongly recommended.


© 2014 Julian Marsh