Automobiles Citroen, as a Principal Founding Sponsor of Art Center (Europe), is one of the driving forces behind the estabIishment of the college. The interest in Art Center is not surprising, with CitroŽn's reputation for innovation and advanced thinking in its product design. The 1934 introduction of front-wheel drive, the 2 CV and prize-winning DS are all landmarks in automobile history.
It was logical that over the years CitroŽn should establish close links with Art Center USA, internationally known for its career-oriented education in communications and industrial design.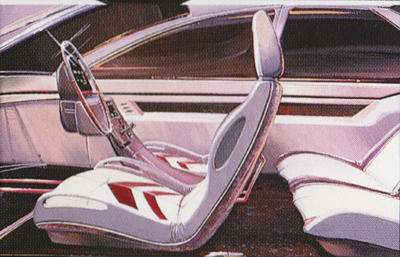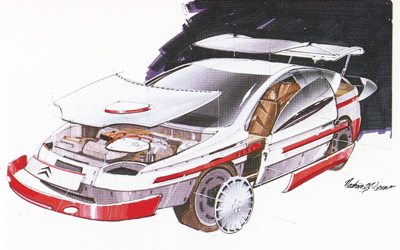 Above sketch by Nathan Young showing construction specifications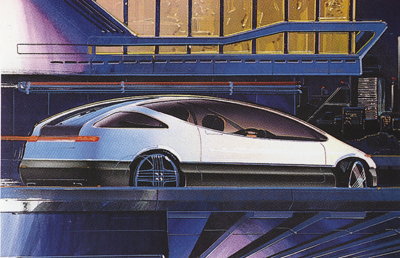 Above advanced rendering by Nathan Young
Below one-fifth scale model by Nathan Young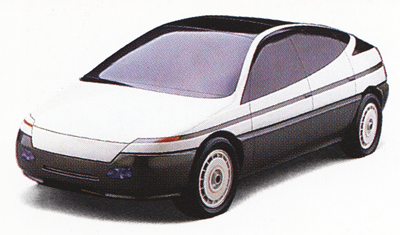 Above, below and right sketches by Dzevad Hasanic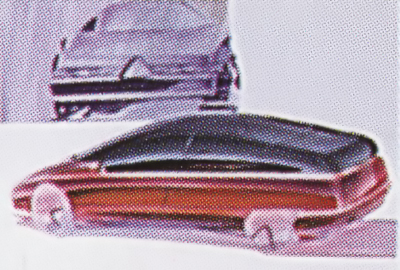 Below rendering by Dzevad Hasanic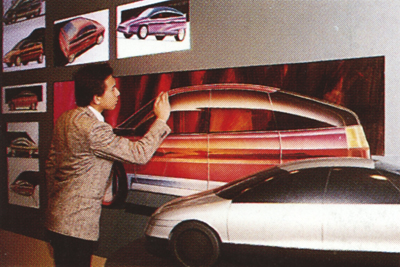 Above Chakrit Puntuvuntana finalizes his presentation to CitroŽn sponsors
Art Center College Of Design (Europe)
Ch'teau de Sully
Route de Chally 144
CH-1814 La Tour-de-Peilz
Switzerland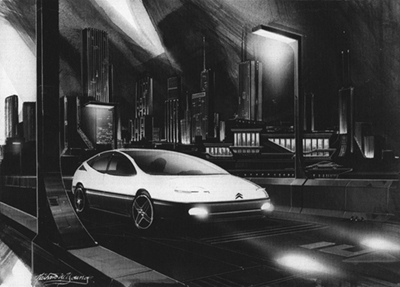 The CitroŽn-sponsored Project BX is a fine example of industry and Art Center working together to establish a creative new vision of car design for the coming decade.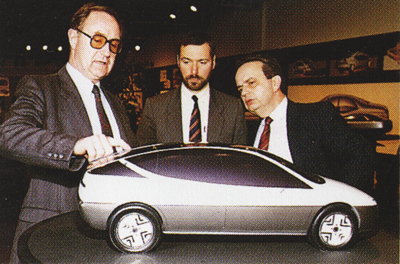 Above CitroŽn executives including Boris Gonzales, direction marketing plans-programmes (right) review a Project BX model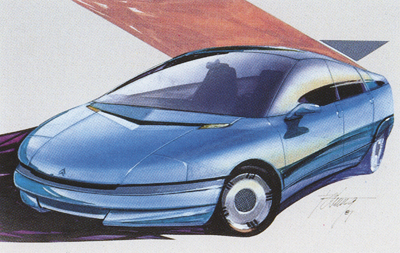 Above advanced rendering by Richard Chung
CitroŽn Project BX was executed by 28 Art Center USA, seventh and eighth semester transportation design students. The open assignment requested a design study of a car which could replace the BX in the coming decade, for which students received comprehensive marketing background and objectives.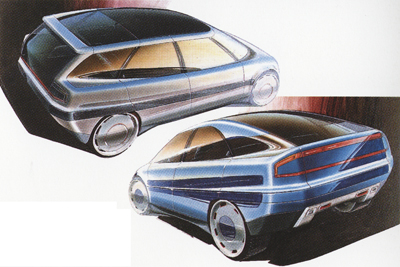 Above two sketches of three-quarter rear views by Vahe Bouldoukian
CitroŽn asked for distinctive and innovative designs allied to good aerodynamic performance, both essential Citroen characteristics, and an image of robustness. The scope of the project included concept sketch development, half-scale renderings of the chosen designs, scale drawings of three-quarter front and rear views, trim details and one-fifth scale models. In particular, students were encouraged to study the interior design of the car, for which they worked in teams.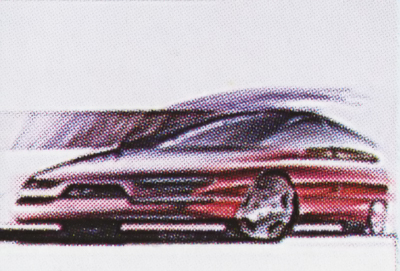 Art Center College of Design (Europe) was established in 1986 with the support of European business and industry. Professionalism and internationalism are the two key words at Art Center (Europe) and its goal is to create the best design education possible that directly relates to the production and marketing needs of world business.
Above Carl Olsen, CitroŽn's director of style seated center comments "The students' concepts perfectly match CitroŽn's avant-garde spirit - we are delighted with the results"

Art Center (Europe) offered three main study courses: a one-semester Preparatory program, an eight-semester Degree program (Advertising design, Graphic design/Packaging, Product design and Transportation design majors) and a variety of Advanced programs for professional designers.
Art Center College Of Design (Europe) operated until 1996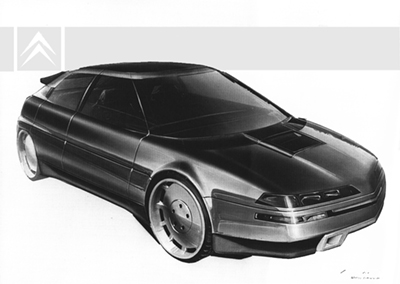 Below interior design rendering by Paul McCracken, Jared Rundell, Avidor Regev and Stanley Liu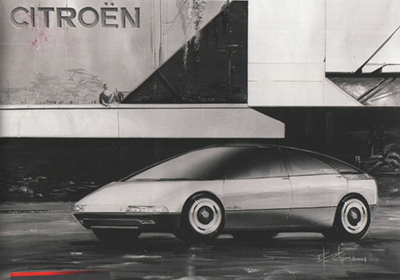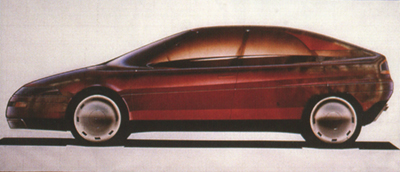 These studies probably represent the last gasp for traditional CitroŽn design themes. Few of these designs even came close to the future ZX.

Among the international group of students who participated were Richard Chung, Brian White (now at KIA America), Tom Arbisi, Paul McCracken, Jared Rundell, Avidor Regev, Stanley Liu, Dzevad Hasanic, Nathan Young, Koji Bagano, Chakrit Puntuvuntana and VaheBouldoukian.